Memories of a Magical Costa Rica Adventure
Day 1: Let the story begin
With an early flight from Gatwick, we decided to stay overnight at the Premier Inn Gatwick North and were delighted when 14 members of our group decided to join us. A few drinks, a pleasant meal, the anticipation of a great holiday and friendships were already starting to form.
The Premier Inn North is a great choice if you are flying from either Gatwick Terminal - reasonably priced and conveniently located just outside the entrance to North Terminal. We were actually flying from South Terminal but all that meant was we crossed the road, stepped on to the moving walkway and at the top we hopped on to the free monorail. Less than 10 minutes after leaving the hotel, we were in South Terminal.
Day 2: There's no denying it's a long flight!
Check in for our British airways direct flight to San Jose was speedy and at the desks we met up with another 6 members of our party who had travelled to Gatwick that morning. Boarding was straightforward and, with our group spread between Business, Premium Economy and Economy, we settled down for our 11-hour 40-minute flight. We had booked into Premium Economy and, although it is more expensive, we thought that on a long flight the extra 8 inches of space, wider seats and upgraded meals were well justified. One small tip: scheduled flights are normally released for sale 11 months in advance and this is the best time to book to secure the best possible fares.
Costa Rica at the time of year we travelled was 6 hours behind the UK and after a very good flight with a great BA crew, we arrived in San Jose at 16.30 local time. Passport and Security checks were quick and friendly and within a short time we were all in the arrival's hall awaiting our baggage. We were met here by a representative of our ground handlers who had organised trollies and porters for all our cases and, in what seemed no time at all, we were all being escorted to our coach, introduced to our guide Alberto, and transferring to our hotel for our first night in Costa Rica.
On our first night we were staying in the 5-star Costa Rica Marriott Intenational which is located only a 10-minute drive from the airport and a perfect choice after a long flight. The hotel was voted by Condé Nast as one of the best hotels in Central America and Mexico and is set on a 30-acre coffee plantation. Arriving at the hotel and checking in, we met the final two members of our party and our group of 24 was now complete. We had arranged a dinner on the first night and the hotel had prepared a lovely private room in the Hacienda Kitchen (one of the hotels three restaurants). The food was excellent with a choice of local and international cuisine and set the standard for what was to be an exciting culinary journey. After a long flight, and in anticipation of a busy day ahead, most of the group retired after dinner, a small few of us had a nightcap in the hotels lively sports bar before also deciding that an early night would be sensible.
Day 3: The world's best coffee, hot tubs, and volcanoes
After an excellent early breakfast outside on the terrace, we met up again with Alberto who would be our guide for the next 5 days and at 08.00 set off towards the Arenal Volcano area. Our first stop was at the Doka Estate Coffee plantation - one of Costa Rica's leading coffee producers. Costa Rica is proud to be recognised as producing some of the world's best coffee with only the Arabica bean allowed to be used. We started the tour with an iced coffee laced with chocolate and cinnamon which was simply excellent!! The tour then took us on a journey from bush to pot showing every stage of production and finished with a tasting of 3 different coffees together with roasted beans covered in chocolate to nibble on.
Leaving the plantation, we drove on to the Freddo Fresas Restaurant for a lovely typical Costa Rican lunch. We started with an amazing Strawberry smoothie/shake that the restaurant and Costa Rica is famous for before enjoying rice and beans with chicken and ending with a really good panna cotta. We were beginning to discover that even in small local restaurants the food was excellent.
After lunch we set out once more heading to our hotel for the next two nights the 5-Star Arenal Kioro Suites and Spa. It was at this point that we started to realise that once you head into the interior, roads are narrower, traffic is busy, and timings are no longer an exact science but more a finger in the air and guess. The Costa Ricans have a phrase which they use all the time - "Pura Vida", which literally means pure life but they use it to embrace life, just like Jamaicans with "no worries" and as one guide said it is Costa Ricas "hakuna matata" phrase. Adopt it, sit back, and enjoy the spectacular scenery and even arriving at your hotel 2 hours later than expected just becomes part of the experience.
The Arenal Kioro Suites and Spa is an amazing 5-star mountain hotel. The property sits on 27 acres and all 53 suites have spectacular views of Arenal Volcano. Every room has its own hot tub with views looking to the volcano whilst in the grounds there are a number of private hot springs for guest to luxuriate in. Dinner this evening was in the hotels main restaurant and afterwards most of the group gathered in the pool bar to chill out with a drink and forge new friendships.
Day 4: Messing about in a boat
After an excellent breakfast with a great choice of both hot and cold options and a chef cooking eggs and omelettes to order, we set off with Alberto in our coach to the Cano Negro Wildlife refuge. During the drive, the coach slowed as we crossed a bridge over a river and Alberto pointed out what he called an Iguana Tree, the top branches of the tree were level with the top of the bridge and there sunbathing in the branches were dozens of huge Iguanas, an amazing site.
After a drive of approximately 90 minutes, we arrived at the village of Los Chiles which is located only 4 kilometres from the Nicaraguan Border. Here we boarded our boat for a river safari through the rain forest. February is dry season so the weather was hot, sunny, and dry and this is best time of year to spot the many birds and animals that inhabit the forest and river. We were lucky enough to see Howler Monkeys, Spider Monkeys White-faced Monkeys, a Three-toed Sloth with baby, a Turtle, several lizards, a Caiman and numerous birds including Spoonbills, Storks and Pelicans.
After lunch we headed back to the hotel and, arriving at 15.00, the whole group had time to relax, sample the hot springs, swim in the pool, or simply sit in their private hot tub and stare at this active volcano only a couple of hundred yards away.
Totally relaxed, particularly after discovering the hotels happy hour was 17.00 to 19.00, we boarded our coach at 20,00 for the 10-minute journey into La Fortuna, a lively town that has grown up to support the tourist demand in the area and which has a large selection of shops, bars, and restaurants. Tonight we were booked into Don Ruffino's Restaurant, one of the best in town, and enjoyed an excellent meal.
Day 5: The Cloud Rainforest - the clue is in the name!
After another lovely breakfast, we re-joined Alberto and our coach for the journey from The Arenal Volcano area to the Monteverde Cloud Rainforest which, although not a huge distance away, is, due to narrow windy roads and frequent ascents and descents, a slow journey of over 3 hours.
Arriving at Monteverde, our first stop was for lunch and what an AMAZING lunch it was. We ate at the Bon Appetite Restaurant in Monteverde which is now one of my favourite Italian restaurants in the world. I started with a stunning Salmon Ceviche, followed by one of the best Spaghetti Carbonaras I have ever tasted - cooked correctly without any cream. Other members of the group had seafood, steaks, pasta and everybody raved about the quality in a restaurant in a tiny town in Costa Rica.
After lunch and a short drive, we arrived at the Monteverde Cloud Forest and our first adventure was a 2.5-kilometre Sky Walk which was simply an amazing experience. The walk allows you to enjoy the view of the rainforest that only the birds normally have, the walk includes 6 hanging bridges, the largest over 700 foot long, which gives you a 360-degree view of the cloud forest all around you. After the walk it was time for the Sky Tram which takes you in open Gondolas to the top of the mountain. As you move amongst the forest you will see how it starts to change as you get higher. The temperature also starts to drop dramatically and it is freezing cold, the cold is so unexpected and every person in our gondola was shivering and wrapping every tiny bit of clothing they had around them. The clue is in the name "Cloud Forest" so be prepared, on a clear day you get spectacular views of the Arenal Volcano, its lake, and the Tilaran mountain range, unfortunately we were completely enclosed in cloud when we got to the top and our guide did say it is like that 80% of the time.
Dropping back down the mountain, we began to thaw out and re-joined our coach for the journey towards the coast and stopping after about 45 minutes for a photo opportunity off the Pacific Coast in the distance, we stepped out of the coach to be hit by temperatures of over 30 degrees. Tonight, our overnight stay was at the 4 Star El Establo Hotel. This hotel is rather strange and appears to cater mainly for groups who are touring the area and are only staying for 1 night. It is built with 9 accommodation blocks spread high up over the mountainside. The main reception, restaurant, and bar are at the bottom of the slopes and so to get around you telephone for the hotel shuttle to take you from your room to the facilities. Food is buffet style with a wide choice but the restaurant does get very busy. The rooms are large and clean but have no wardrobes at all, the major plus point is that each room has a huge floor to ceiling window and door which, on a clear day, gives spectacular views across to the Pacific Ocean. There is also the major benefit of nature right on your doorstep and we spent a fascinating hour watching a Long-nosed Coati playing outside our window and trying to get into our room. After an OK meal (Tip never get in the way of an American heading towards a buffet), one of our group mentioned that there was another bar located just in front of our accommodation block so we decided to take the shuttle there for nightcaps. Great choice and just as our first drinks were brought, we had a power cut and the bar was plunged into darkness, not a problem as the staff quickly brought small battery powered table lights and it turned into one of those brilliant unplanned nights that you hope for whenever you travel.
Day 6: A walk in the rainforest and boarding the Star Clipper
After breakfast which, to be honest, was good but a bit of a bunfight, we boarded our coach and set of for the Monteverde Cloud Forest Reserve. This was an easy 2-hour stroll through the forest with an excellent guide but, unfortunately due to rain, several of the paths were closed so we did not really get the full experience. Back on the coach, we headed off to the Bon Appetite Restaurant in Monteverde which was another amazing local eatery. With a great choice, some of our party had fish tacos, and some had 3-meat nachos, whilst I had a brilliant steak cooked to perfection. A great way to finish the first part of our Costa Rica adventure. Happy and full, we boarded our coach to travel to Caldera Pier to begin our 7-night sailing on Star Clipper.
Puntarenas is a small town and Star Clipper ties up at a long narrow pier. The initial check in is undertaken in a port office approx 500 yards from the ship. The crew take your luggage and passengers are transported to the ship by mini bus. We arrived at 15.00 which was a little early for boarding to find most of our fellow passengers were already there and after checking in we were told that we would be transfer number 7. The wait was not too long (with water provided) and we were onboard just after 16.30 where we were met by the Captain, Hotel Director and given a welcome cocktail and snacks. For people who have not sailed on Star Clippers since Covid, the life boat drill has been greatly streamlined, you now simply watch a safety video in your cabin then proceed to your muster station with your life jacket, put it on and confirm you have watched the video. Simple and at least 45 minutes faster than the old routine.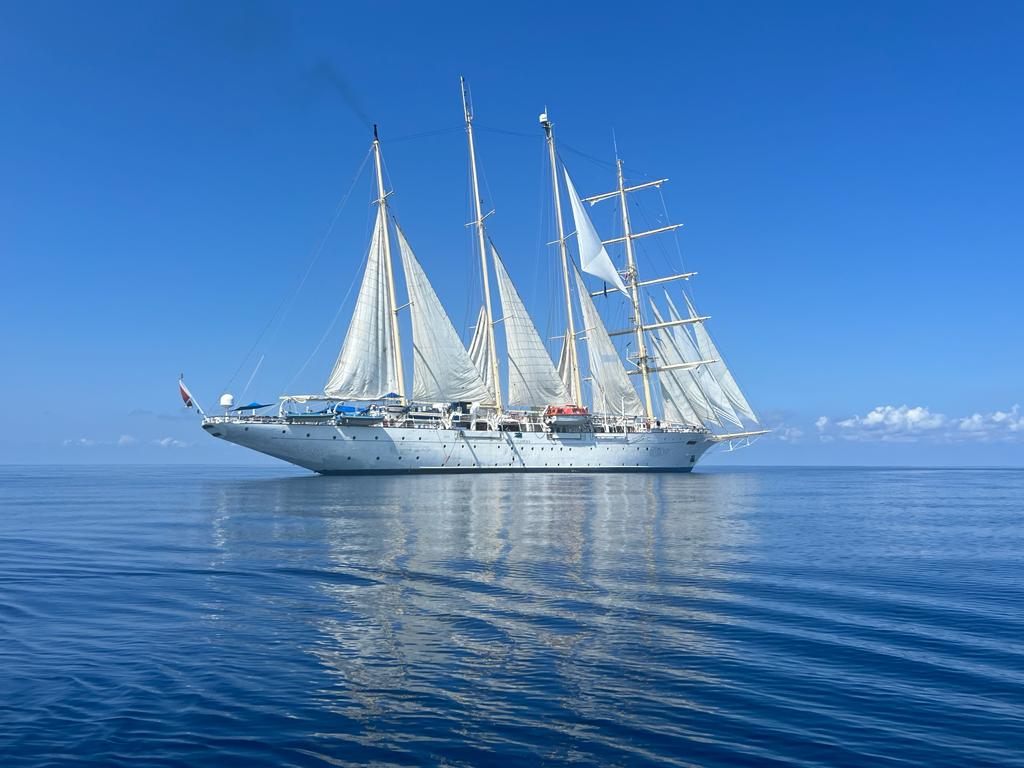 Dinner is always a highlight on any Star Clipper sailing, with guests able to look at that evening's options on display in the piano bar and discuss which dishes they are going to select. For main course tonight I, along with many other guests, went for the rack of lamb which was excellent. Like us, many of our group had sailed with Star Clippers on numerous occasions and, by the end of the week, we were all unanimous is agreeing that this week's food was the highest standard we had ever experienced on board. A real tribute to the chef and his team.
After dinner all guests were invited on deck for sail away, which under full sails and with Van Gelis "Conquest of Paradise" playing, is always a magical and emotional experience.
Day 7: A day in Costa Rica even makes defeat at Wembley seem OK
Today we arrived in Quepos, a busy little harbour town located close to Costa Ricas most visited National Park. We arrived at 12.00 which, for me was disappointing, because as a Newcastle United fan I was really hoping to be able to get into a local bar in time to see us play in our first cup final in over 20 years. In hindsight, as we lost, it was probably for the best and when we did get to sit with a local beer in the sun, a loss did not really seem to matter all that much. Several of our group had booked an excursion to the Manuel Antonio National Park which was rated as excellent with many birds and reptiles spotted during the trip.
TIP. For the best chance to see wildlife from the ship get on deck early each morning, during the week early risers saw pods of dolphins playing around the ship, turtles swimming by, and whales breaching close to the ship.
Sail away tonight was at 18.00 after which we all enjoyed a pre-dinner drink in the bar before another excellent dinner followed by the Star Clipper Fashion Show in the Tropical Bar which is always entertaining.
Day 8: Cocktails with the Captain
Star Clippers do lay on a great breakfast buffet and, whilst enjoying my 2 fried eggs over easy cooked to order at the chefs station, the ship arrived at Golfito a small town located across from the Osa Peninsula on the Sweet Gulf. Star Clippers offer a choice of optional excursions (paid for onboard) and today there was a choice of 'Ocean Kayak tour', a 'Dolphin and Beach Escape Tour', or a 'Golfito Park and Village Exploration Tour'. Many of the group booked but we decided to take advantage of an almost empty ship and simply chill on board, reading on a lounger and chatting with fellow guests as we sat in the plunge pools, doing our thing - it's what holidays are all about.
On every cruise, Star Clippers hold a repeat passenger's cocktail party with the captain and tonight we dressed ready for dinner but at 18.30 headed to the aft of the ship to enjoy cocktails on the open deck and a magnificent sunset. As always, there were a huge number of repeat passengers with over 60% of the passengers being previous Star Clipper guests.
After another superb dinner we retired to the Tropical Bar for the music quiz, another fixture of all Star Clippers cruises. Always fun and always surprisingly competitive.
Day 9: Wet landings and 'White Night'
Early risers were again rewarded with a large pod of Dolphins racing alongside the ship. For the rest of us, a leisurely breakfast and by 10.00 the ship was anchored at Coiba Island in Panama. Coiba National Park encompasses over 1042 square miles of islands, forests, beaches, mangroves, and coral reefs and, in July 2005, UNESCO declared it a World Heritage Site. Large cruise ships are simply not allowed to visit this area but the Star Clipper is privileged to be able to drop anchor just off shore from one of the most beautiful tropical beaches in the world. Local restrictions mean that only small groups are allowed ashore a time so it was necessary to book a slot for a tender with each group allowed 2 hours 45 minutes at the beach. Guests could also in addition book 1 hour 45-minute snorkelling trips in crystal clear waters with guests who participated reporting huge varieties of colourful fish, turtles, and sharks. To make it even more fun this was a wet landing with guests stepping from the tender into the sea before wading ashore.
Sail away tonight was 19.00 and again guests gather on deck to watch the sails unfurl, listen to the always evocative music and simply soak up the atmosphere.
Tonight, after dinner was the White Night Party, which is now becoming one of the highlights of a Star Clipper cruise. Most guests are now aware that this will take place on their cruise and so come prepared to impress in white. Held on the main deck, the sails are set, spotlights play across the sails and continuously change colour as the DJ plays a selection of guaranteed to please classic dance music. This was one of the best I have attended with virtually the whole ship taking part, singing, dancing, and congaing across the deck, a brilliant night.
Day 10: Wet landing Olympics, a beach BBQ, and our exclusive cocktail party - what more could you want
Today, for our second, and final, stop in Panama, Star Clipper anchored at 09.00 at Marine Park Golfo de Chiriqui. The park has 25 Islands and Coral Reefs and is renowned for its wildlife including: green iguanas, humpback whales, hammerhead sharks, whitetip reef sharks, manta rays, dolphins, and sea turtles. Lunch today was a excellent beach BBQ organised by the ship which included a wide choice of hot and cold food with wine, beer, soft drinks, and rum punches. An amazing feat as everything has to be transported by tender. Today's wet landing was even more exciting than normal as you went from gangplank to tender and then, as you neared the shore, transferred from tender to zodiac and then nearer to the beach exited over the side of the zodiac and waded ashore.
On every group we arrange and escort, we organise an exclusive Gocruise with the Blakeys cocktail party as a thank you and tonight was our party. At 18.30, our group of 24 (who were now close friends) gathered at the rear of the ship for a lovely hour on the open deck chilling, chatting, and reliving the trip so far. With less than a third of the numbers who attended the captains repeat passengers cocktail party, it felt much more relaxed and spacious. We all had a great time and, when the waiter told me we had consumed more wine and champagne than the 70 plus people attending the captains cocktail party, I can't say I was all that surprised!
After a very merry dinner (and a bit more wine!) it was back to the Tropical Bar for Pirates night and, although on this sailing not many passengers were dressed up, the crew were enthusiastic and we all had a great time - maybe because of the wine. Most of the ship seemed to be in a party mood tonight so we all ended up dancing to the DJ's tunes and staying up late into the night. If you can't do a little excess on holiday, when can you! A couple of our group decided that tonight was the perfect night to select a lounger and sleep on deck with the stars to stare at and the sea to rock them gently to sleep. It was, they said, magical. Although, they were a bit surprised when waking to be greeted from a nearby lounger by a young German voice shouting "Guten Morgen" to them.
Day 11: Just chilling
After the excess of last night and, as today was a sea day, Joanie and I (together with several of our group) enjoyed a late and leisurely breakfast. Sea days are always fun and passengers had the chance to climb the mast, take a photo safari in the tender around the Star Clipper whilst she was under full sail, or even take a dance class which a few of our party actually did. There was even the opportunity for a tour of the engine room - lots for people to do.
Dinner tonight was the 'Captain's Dinner' which is always a highlight of any Star Clipper Cruise and the one night when some people do dress to impress slightly more than normal. The food lived up to the standard set this week with main course a choice between Lobster or Fillet Mignon - not an easy decision! Dinner concluded with a speech from the captain and then a champagne toast.
Entertainment tonight was the crew and passengers' talent show and this as always is a show you do not want to miss; the talent may be questionable, or on occasion non-existent, but it is always a great laugh and there are always a couple of crew members who are really talented singers or dancers.
Day 12: Sloop shop sale, 'We Are the World', and 'Around Cape Horn' - the cruise must nearly be over!
Enjoying breakfast on our last day onboard Star Clipper, we were already anchored at Isla Tortugas which is one of the Nicoya Peninsulas star attractions with its crystalline waters and tropical white sand beaches. With a tender service to the beach and another exciting wet landing, this was a day for relaxing either onboard or on the beach and looking back on an amazing Costa Rica adventure. Lunch today was a beautiful hot and cold buffet served on deck and this was followed at 16.00 by the Sloop Shop sale, another highly anticipated part of the cruise and a chance to grab a few clothing bargains.
The last night dinner is always emotional (Joanie cries every time) as guests say farewell to new friends and the whole crew waving their national flags stand in the restaurant and led by Sunni, our cabin steward, sing "We are the World" as all the guests wave their napkins and sing along. After dinner we all retired to the bar for a final few drinks and a bit of dancing whilst several guests took the chance to view "Around Cape Horn". This is a film made in the early 1900's of a Clipper ship rounding Cape Horn and ends with an interview made in the 1960's with one of the crew who was on the actual voyage. A fascinating insight into the hardships endured by the original clipper crews.
Day 13: Farewell, a final adventure involving poisonous frogs and crocodiles, and the long journey home
Fortified by an excellent breakfast (my final 2 fried eggs over easy until my next sailing) we left the ship saying our farewells and boarded our coach for a final excursion which would then drop us of at the airport in time for our flight to the UK. This excursion was excellent and highly recommended to anybody cruising with Star Clippers in Costa Rica. Onboard the coach our two very personable guides introduced themselves and explained the day ahead and proceeded to give some great information on Costa Rica and its history. Arriving at our first stop, we were split into two groups each with a guide and started on an easy 1-hour stroll through the forest. Our guide was excellent and, even though it was dry season, he managed to spot several tiny but poisonous green and black frogs (apparently common in the wet season but rare in the dry) and some very large lizards and geckos sunning themselves, totally unafraid of humans. Back on board, and a short drive later, we were boarding a boat for a 1-hour cruise in a river famous for its wildlife, birds and crocodiles. Costa Ricas' crocodiles are a protected species and there are over 1200 in the country's rivers with some growing to over 8 metres. As they are protected, they have no fear of humans and we were able to get close to several including one estimated to be 90 years of age and over 6 metres. This was actually right alongside the boat and as our guide said, "I know it is within touching distance but I recommend you do not." Great advice!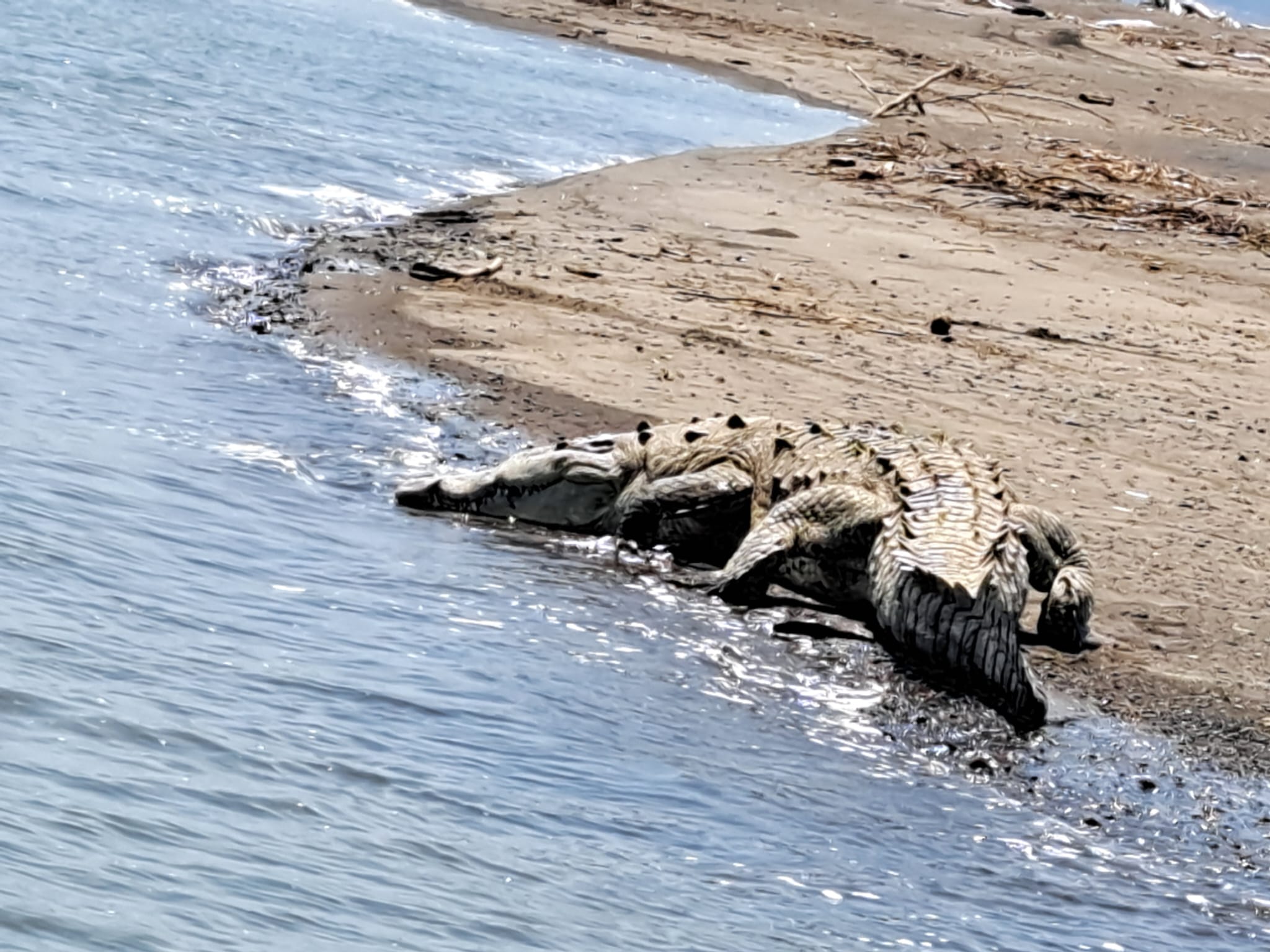 With some great final photographs, we headed for our final lunch and this was again a great example of how good local Costa Rican food is. We were given an excellent buffet comprising rice and beans, assorted vegetables and a choice of chicken or pork. All tasted delicious and cooked perfectly washed down with a couple of local beers, just the perfect end to a perfect trip.
Costa Rica airport was efficient, and after another very good British Airways flight, we arrived back in Gatwick with amazing memories and the desire to travel again soon.
Credit to K. Gothard for the incredible picture of the two tropical birds in flight.