As anybody who has spoken to us knows, we love Star Clipper cruises and have been sailing on these beautiful ships since 2000. We have been escorting groups since 2015 and have made some amazing friends. For our next Star Clipper cruise adventure, we will be sailing on the majestic Star Clipper departing from Cannes on the 12th August 2023 on a superb 14-night back-to-back sailing. Guest will have the opportunity to join us on the 12th for an amazing 7-night sailing from Cannes to Rome or join us in Rome on the 19th August for spectacular 7-night cruise from Rome to Rome exploring Amalfi and Sicily. Better still, why not join us for the full 14-night sailing and enjoy an additional back-to-back discount.
We are confident that this adventure will be as memorable as all the others. On each weeks sailing we will host an exclusive private cocktail party so you can get to know your fellow travellers. This is a great opportunity to enjoy an amazing Star Clipper cruise, make new friends and explore beautiful ports of call.
Full details are below and both Joanie and I hope that you will join us.
Itineraries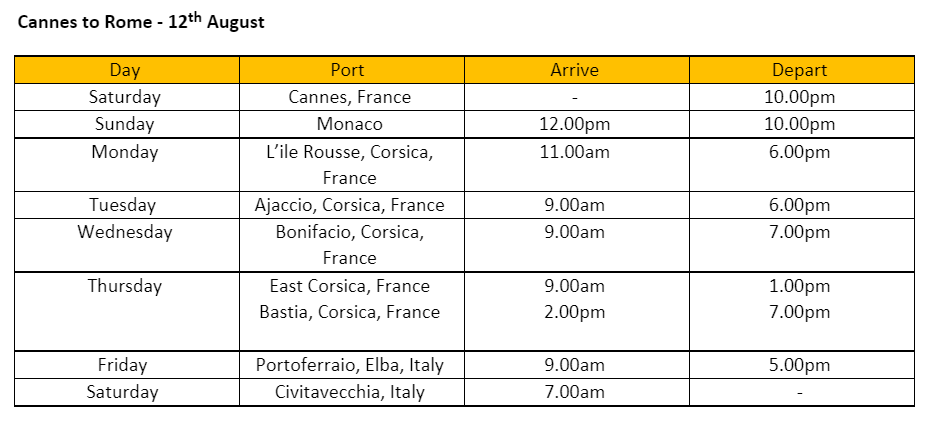 Please note the captain reserves the right to alter the itinerary to suit local wind and weather conditions.
Prices
Prices quoted are per person and are based on two adults sharing a cabin on a full board basis. 7-night prices include 10% early booking discount, port charges of £165.00 and our additional discount that we offer. 14-night back-to-back prices include 10% early booking discount on both sailings, a 5% back-to-back discount off the second week, port charges of £330.00 and our additional discount that we offer. Prices quoted are subject to availability at the time of booking.
Don't forget, if you have sailed with Star Clippers before you will also receive an additional 5% repeat passenger discount - if doing back-to-back this will apply to both sailings!
Solo prices are available, contact us now for a quote!